Friends of the Eliot School
Formerly operating under the name of the Eliot Family Council, Friends of the Eliot School, Inc. was incorporated as a separate entity in November, 2017 in order to focus on the growing importance of securing the needed resources to sustain excellence within our growing school community. The Friends of the Eliot School works in partnership with the Eliot Governing Board and the Eliot Family Council to support the school's vision.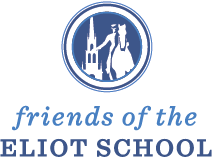 Petey Prinn, President
Petey Prinn and her husband have been residents of the North End for over fifteen years and they have three boys that attend the Eliot.
Petey has served in various capacities at the school and is an integral part of the financial management/oversight for the school and fundraising efforts.  She will serve as President of the Friends of the Eliot starting in November of 2017.  Petey previously served on another non-profit Board in Boston for a number of years and served as Vice-Chair of the Board prior to the organization merging with another organization.    
In addition to her being with her children and family and involved at the Eliot, Petey is an in-house investment counsel at John Hancock/Manulife and has served as legal counsel in various parts of the investment division of John Hancock/Manulife since 2003.  Prior to joining John Hancock, she was in private practice at Nixon Peabody LLP in Boston.  Petey holds her Juris Doctorate from Boston College Law School and a Bachelors of Arts in English from Boston College.
Petey is excited to continue to be a part of the journey of the Eliot as it grows and expands while maintaining high academic standards and providing a welcoming culture for students and families. 
Julianne McHugh, Treasurer
Parent of a current Eliot student as well as an Eliot alum, Julianne has been an active member of the Eliot community since her oldest started at the school in 2009.  She served as the Family Council Treasury for three years when the school's fundraising efforts were in their nascency and spent a few other years as a member of the Spring Gala planning team.  Julianne has also been involved with various family driven initiatives at the school including securing the needed second building on Salem Street for the growing student body and implementing a before and after-school child care offering.
Julianne is a Director at BNY Mellon Asset Management North America where she works as an Equity Analyst and Portfolio Manager investing in Emerging Market and other non-US equities.  She holds a master's degree from MIT Sloan and a bachelor's degree from Lehigh University.
Stacey Head, Director
An Eliot parent since 2012, Stacey is co-chair of the Eliot Family Council and a board member of the Friends of the Eliot 501c3. She and her husband have two children at the Eliot (grades 1 and 4) with the third to start K1 next year. They live in the South End.
Stacey is currently a Director at Harvard University in the Faculty of Arts and Sciences Office of Capital Giving and Interim Senior Director for Campaign Volunteer Management. She manages a team of fundraisers, works with a portfolio of major and principal gift alumni/ae and parents, leads development strategy for the Boston region and oversees the volunteer management team. She began her career at Harvard in 2005 and has spent her full professional career in development roles serving both the arts and higher education.
Stacey is a graduate of Gettysburg College where she earned her BA in English Literature and Sociology.
Terry Bradshaw, Director
Mr. Bradshaw is a managing director at EY-Parthenon, a strategy consultancy that became part of Ernst & Young in 2014. In this role, he advises corporate and private equity clients on strategic issues including: growth, operational excellence and M&A.
Terry joined the Eliot community in 2014, when his oldest son started kindergarten. His enthusiasm for public education, the Eliot, and fundraising led to an invitation to join the Eliot's 501(c)3 as co-treasurer in 2016. He has lately been focused on helping the organization transition to a new donor software platform.
He received his undergraduate degree, summa cum laude and Phi Beta Kappa, from Dartmouth College. He received his MBA from the Tuck School of Business at Dartmouth. He has held several Dartmouth alumni fundraising roles.
Terry lives in Charlestown with his wife, Joanna. They have two boys enrolled at the Eliot.
Laura Boucher, Secretary
Mrs. Boucher is a certified public accountant with more than 20 years of experience in accounting and finance. Mrs. Boucher has performed various accounting roles for companies in the non-profit, software and real estate industries. Mrs. Boucher received her B.S. degree in Accounting from the University of Connecticut.
Laura lives in the North End with her husband and two children.  Her family has been involved in the Eliot since her son started in 2014.