Friends of the Eliot School
Formerly operating under the name of the Eliot Family Council, Friends of the Eliot School, Inc. was incorporated as a separate entity in November, 2017 in order to focus on the growing importance of securing the needed resources to sustain excellence within our growing school community. The Friends of the Eliot School works in partnership with the Eliot Governing Board and the Eliot Family Council to support the school's vision.
The Friends of the Eliot School, Inc., a tax-exempt 501c3 organization, was incorporated in November, 2017 in order to focus on the growing importance of securing the needed resources to sustain excellence within our growing school community. The Friends of the Eliot School works in partnership with the Eliot Governing Board and the Eliot Family Council to support the school's vision.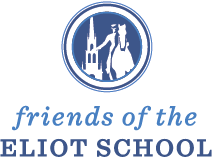 The Friends of the Eliot School is a tax exempt 501(c)(3) organization and our employer identification number (EIN) is: 82-442 4844. 
How the Friends of the Eliot is meeting this moment: 
Even during 
the
se unprecedented times, the Friends of the Eliot continues to 
of
fer 
the
 necessary resources to enable all students to succeed.  Those resources look a little different this year (2020-21). Thanks to the generosity of our donor community, we are making new, early investments to help our 
Eliot
 community meet this moment. Examples include 
the
 virtual learning kits all children received and a new partnership with Little Uprisings, a Boston-based social justice organization.  
Of
 course, 
the
Friends
of
the
Eliot
 will continue to invest in programs like ST Math, Lexia, Aleks and other software that bridges in-person and remote learning environments; as well as professional development for our incredible teachers as 
the
y work so hard to make 
the
se new learning models successful for all students.  Thank you to all for making these investments possible!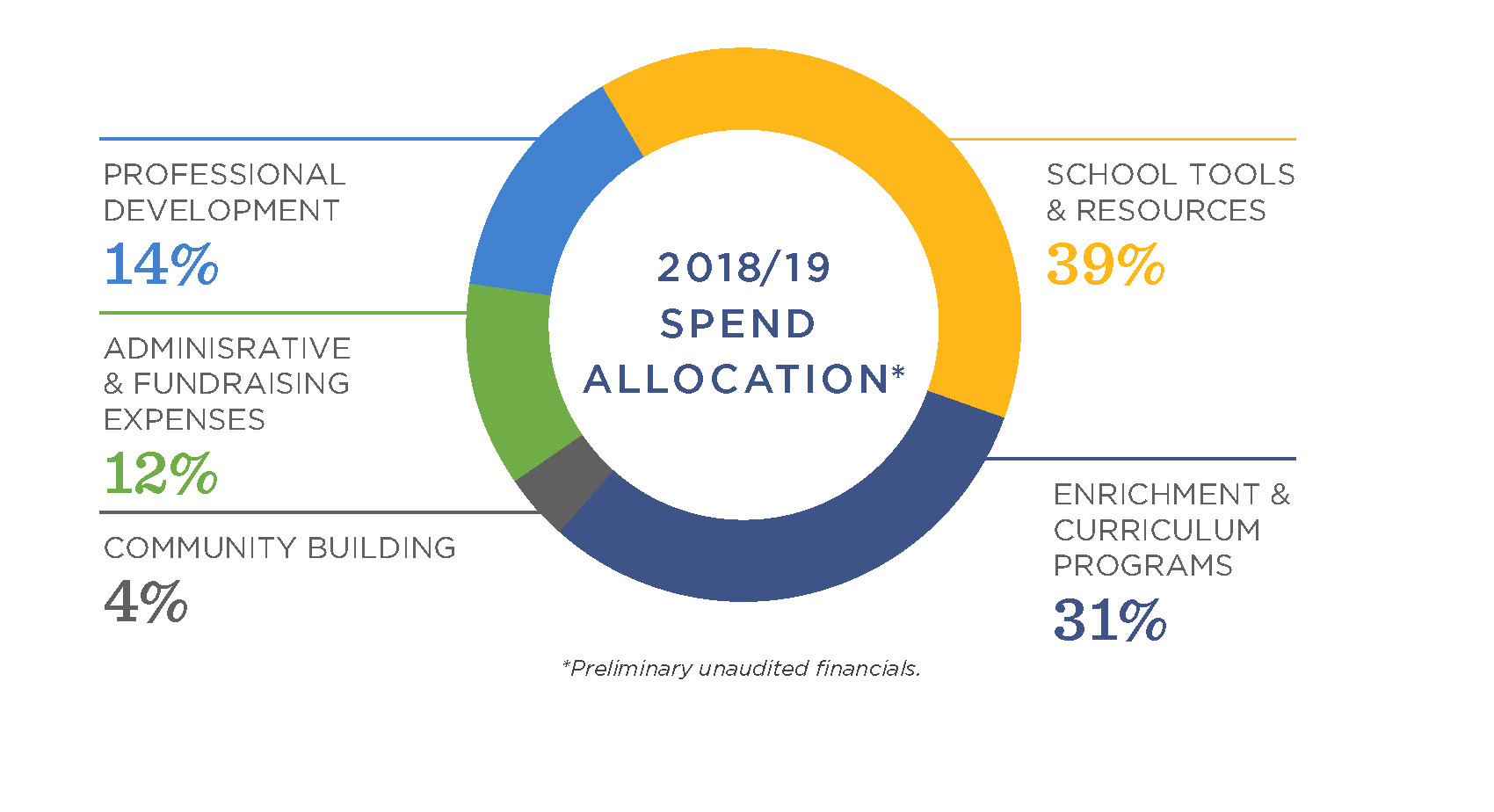 ENRICHMENT & INSTRUCTIONAL SUPPORT
funds a variety of enrichment offerings at the Eliot as well as the purchase of supplementary academic curriculum to address both accelerated and intervention needs. This includes purchasing programming, instruments, and supplies to resource art and music instruction as well as providing students with opportunities to participate in extracurricular activities including debate, math competitions and select upper school athletics programs. In addition, donations purchase online programs and subscriptions that support literacy, writing and math. The Friends also funds the Playworks program which supports the school's commitment to fostering a safe and respectful playground environment while also building students' leadership skills.
SCHOOL TOOLS & RESOURCES incorporates the funds allocated to purchase the robotics kits needed for our growing and more experienced student body as well as the spend to equip classrooms with everything from chrome books and monitors to white boards, book shelves, and reading areas. Your donations also purchase supplies for learning projects such as science fairs, publishing parties, and math games, etc.. Finally, this category captures the spend on some of the more basic requirements to run the school, such as purchasing toner and paper, which then allows the school to allocate district funds into areas that can more directly impact education.
PROFESSIONAL DEVELOPMENT supports our most important asset-our teachers!  Friends of the Eliot School funds continuing education and training opportunities that are unparalleled in other schools, creating a path of continuous learning to promote high quality instruction in every classroom. Teachers engage in many different types of classes including STEM education, reading and writing courses,  workshops on creating more inclusive and equitable schools, and Think:Kids, which teaches collaborative problem solving. High-quality professional development helps the Eliot attract and retain the best teachers.
COMMUNITY BUILDING funds promote engagement within the school and within our greater community. Your donations help sponsor events including the Family Council Speaker Series, Family Ice Skating event, field days, block parties, theater events, and our bi-annual whole school celebrations.
ADMINISTRATIVE & FUNDRAISING EXPENSES include accounting services, processing fees on electronic donations, bank fees, as well as subscription fees for software required for accounting and donation databases.
Alicia Piedalue, President
Alicia and her husband, Matt McGinnis, live in Charlestown with their four children. Their three oldest children attend the Eliot, and their son has been a part of the Eliot's terrific inclusion program since starting at the school when he was 3 years old.
In addition to the Friends of the Eliot Board, Alicia serves on the Board of the Charlestown Nursery School, the Eliot School Governing Board, and has been involved in the Eliot Family Council as a Special Education Parent Association liaison to the district.
Alicia worked at Microsoft for ten years in various Recruiting and HR roles, including managing the company's MBA recruiting program.  She currently works as an HR Consultant periodically, and received her Bachelor's Degree from the University of Puget Sound in Chemistry and English Literature.
Kelsey Morgan, Treasurer
Kelsey Morgan is the Chief Investment Officer for Dartmouth College. In his role, Kelsey is responsible for overseeing a team of 18 to manage the university's $8B endowment as well as other operating assets. Kelsey graduated from Dartmouth College with an AB degree and earned an MBA from The Tuck School of Business at Dartmouth College. Kelsey joined the Friends of the Eliot board in 2020 and is the organization's Treasurer. Kelsey lives in Charlestown with his wife Zara. They have three children enrolled at the Eliot.
Laura Boucher, Secretary
Mrs. Boucher is a certified public accountant with more than 20 years of experience in accounting and finance. Mrs. Boucher has performed various accounting roles for companies in the non-profit, software and real estate industries. Mrs. Boucher received her B.S. degree in Accounting from the University of Connecticut.
Laura lives in the North End with her husband and two children.  Her family has been involved in the Eliot since her son started in 2014.
David Bairstow, Director
David is a senior vice president of product management at Skyhook, a mobile software company based in the Seaport, where he leads product strategy and development.
David lives in the South End with his wife, Rebecca Knight, and his two daughters who are both enrolled at the Eliot. They have been a part of the Eliot community since 2013. As a product of public school education and a strong believer in the Eliot, he's looking forward to supporting the incredible growth and high performance of this amazing school.
Stacey Head, Director
An Eliot parent since 2012, Stacey is co-chair of the Eliot Family Council and a board member of the Friends of the Eliot 501c3. She and her husband have two children at the Eliot (grades 1 and 4) with the third to start K1 next year. They live in the South End.
Stacey is currently a Director at Harvard University in the Faculty of Arts and Sciences Office of Capital Giving and Interim Senior Director for Campaign Volunteer Management. She manages a team of fundraisers, works with a portfolio of major and principal gift alumni/ae and parents, leads development strategy for the Boston region and oversees the volunteer management team. She began her career at Harvard in 2005 and has spent her full professional career in development roles serving both the arts and higher education.
Stacey is a graduate of Gettysburg College where she earned her BA in English Literature and Sociology.
Craig Millon, Director
A graduate of Purdue University, Craig Millon is a senior executive who has built brands and businesses through the use of technology for over 20 years.
Craig's career began at Revlon and later Gillette, where he worked with various brands such as Right Guard, Sensor, Oral-B, and Braun. In 1998, Craig became Director of Client Services at The Faneuil Group, a Boston based market research firm driving growth across North America.
Craig then joined Marketing Drive to lead business development efforts in the US and was soon being promoted to a global role, Chief Growth Officer. During that time, Craig developed a vast client base that included, ExxonMobil, Proctor & Gamble and New Balance. In 2011, Craig was promoted to Managing Director Digital for the parent company, The RiverNorth Group. Under his leadership, the Digital Practice grew rapidly with clients such as: Dannon, Burger King, CVS and Pernod Richard. At RiverNorth Craig also led the acquisition strategy for the firm.
Today, Craig is an Executive Vice President at Jack Morton Worldwide and Genuine Interactive, two global experience agencies that are part of the Interpublic Group of Companies. Craig is responsible for innovation, technology and mergers & acquisitions primary across North America.
Anthony Pangaro, Director
Anthony Pangaro has been a principal in private real estate development since 1980, completing over $3 billion of work in Boston, most notably the Millennium Tower (the Filene's Department Store site), the Ritz-Carlton Hotel and Towers, the 10 St. James Avenue Office Tower, and the Four Seasons Hotel and Condominium. Prior to that, he managed the development of Boston's Southwest Corridor transit project, which includes a five-mile long public park. He also held public service positions at the New York State Urban Development Corporation and the Boston Redevelopment Authority.
A registered architect, Pangaro earned degrees from Rensselaer Polytechnic Institute in architecture and in building science, and a master's degree from Harvard University in architecture. He was subsequently awarded the Loeb Fellowship in Advanced Environmental Studies at Harvard.
Pangaro has served as a director on numerous Boston community and nonprofit boards, including the American Repertory Theater, the Boston Center for Adult Education, Opera Boston, the Lower Roxbury Community Corporation, and the board of overseers of the Museum of Fine Arts. He is now on the executive committee of the Esplanade Association, is the President of the Friends of the Italian Cultural Cener-Boston, and is a member of the MIT Visiting Committee for the Department of Urban Studies and Planning. Pangaro served on The Boston Conservatory board for 25 years and is now a trustee of Berklee which merged with the Conservatory in 2016.